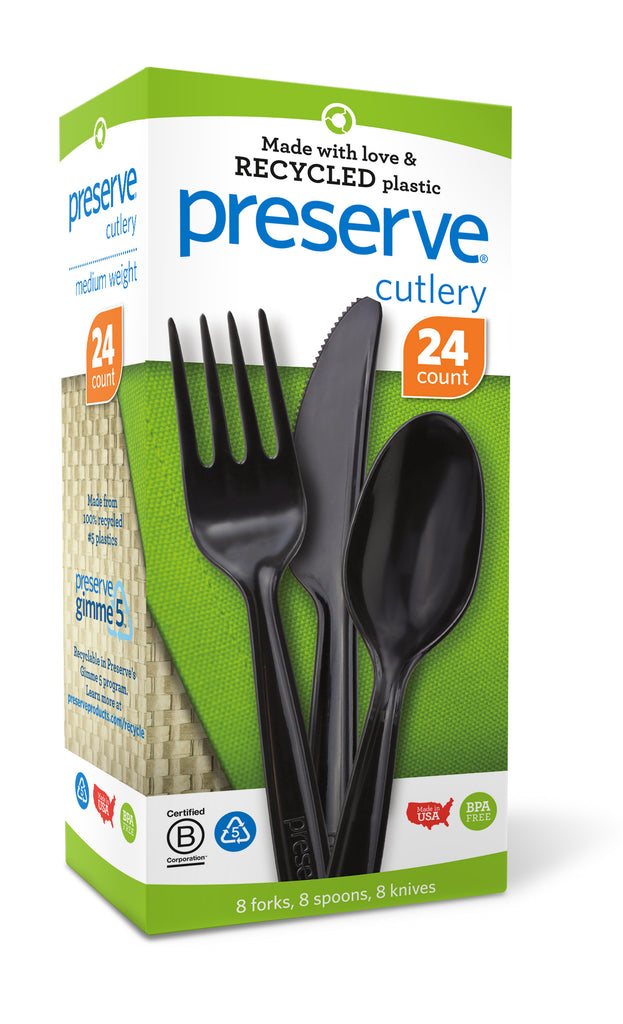 $3.85
$0.00
Medium Weight Cutlery | Knives, Forks, Spoons | 8 sets
B Corp
Product is created by a Certified B Corp. Preserve and other B Corps meet the highest standards of transparency, accountability and social/environmental performance.
Made in USA
Made in America to reduce transportation impacts, create jobs locally and support production in the US.
Recycled
Product is made from 100% recycled plastic.
Gimme 5
Recyclable through our Gimme 5 recycling program.
BPA Free
Product does not contain BPA or phthalates.
Dishwasher Safe
Product is durable enough to be cleaned in a dishwasher without suffering warping or other degradation.
Features:
Made from 100% recycled #5 plastics
100% recyclable in Preserve's Gimme 5 program
Suitable for one use but durably designed for reuse
The team at Preserve designed a new line of plastic tableware that is not only beautiful, but sturdy. The next time you throw a party or plan a picnic, use Preserve's Lightweight Cutlery. Made in the USA from 100% recycled #5 plastic and is BPA and melamine free.